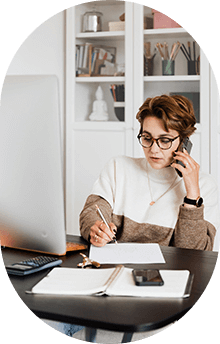 Strix Digital
We're designing digital experiences that enrich human lives and it helps to leverage your brand presence.
Approch
Creativity
Experience
Brand Building Digital Agency
Strix is a brand building agency that thrives at the junction of strategy & creativity. It's about showing up and buckling down. Dreaming big and finding the breakthrough strategy and creativity.
User Interface or User Experience Design
We are a global creative agency that combines design expertise with technology and intelligence to revolutionize your business. By understanding the need of your target audience and their market preference, you can make design interactive and more engaging.
+ UI Design
+ UX Design
+ Interaction Design
+ Visual Design
+ Graphical User Interface
+ Architecture Design
Web & Mobile Development
Come on board to sense and feel an environment of most automated and development tactics which are proficient enough to deal with all your technical complexities. A close knit team of A+ developers can run circles around a big team of B and C developers. Our app development services are backed by our full-service, in-house team who strategically brand, design, and develop apps. App development expertise includes: iOS and Android Backend development and engineering Technical SEO strategy.
+ WordPress Developemnt
+ Shopify Solution
+ Ecommerce Website
+ API Development
+ Landing Pages
+ Hybrid Application
Motion & Brand Design
Our thinking starts and ends with the brand and the audience. Using structured research, small creative brainstorming workshops, we articulate the ethos of the brand into a single-minded positioning and springboard to create a strong and distinct visual identity that resonates with the customer.
+ Brand Asset Creation
+ Brand Expression
+ Motion Graphic Design
+ Creative Design
+ Brochure Design
+ Brand Communication
Digital & Performance Marketing
We offer end to end digital marketing services, right from content production for digital & offline, branding & marketing execution using activities like SEO, Social Media & Influencer Management, Ads on Google & Social Channels, Programmatic & Affiliate Marketing, Email Marketing & Marketing Automation and much more.
+ Search Engine Optimization
+ Social Media Marketing
+ Influencer Marketing
+ Content Marketing
+ PPC Campaign
+ Search Engine Marketing
Content Writing
If you want to succeed in your online marketing, then content is absolutely key to your success and content writing companies are likely to be instrumental. In fact, we have a saying in the marketing industry: that is 'Content is King'.
+ Article Writing
+ Copy Writing
+ Website Content Writing
+ Emailer Writing
+ Technical Writing
+ Product Description Writing
Illustration Design
We're a visionary illustration agency representing a diverse family of trailblazing artists from around the globe. We help creative thinkers connect with artists so they can transform their innovative and progressive ideas into powerful visual content.
+ Concept Art
+ Cartoon
+ Digital Illustration
+ Illustrations
+ Animation
+ Technical Illustration
step 01
01
Positioning & Strategy
Find your direction. Stay on your hustle. Break away from the pack.
step 02
02
Branding & Design
Cut to the chase. Get to the heart of it. Show your true colors.
step 03
03
Content & Social
Tell your story to the masses. Connect with your brand's purpose.
step 04
04
Campaign & Marketing
Work smarter. Build strategically. Grow your business.